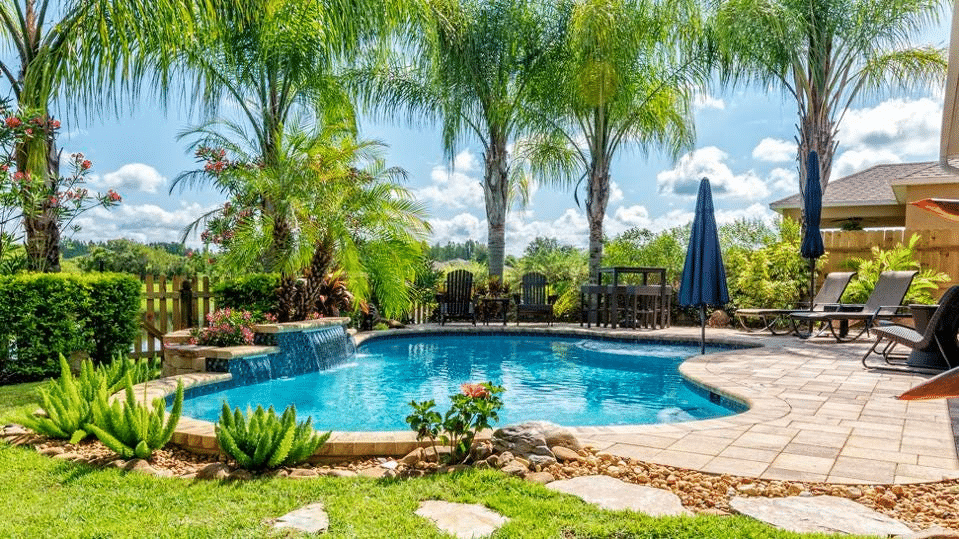 Proper upkeep of the landscape around your swimming pool creates a major difference between being a rewarded and a problematic pool owner. However, you can make smarter choices on construction with a few key tips on swimming pool landscaping designs and ideas, plants that can be used near a pool, etc. We at Desert Leisure and Swimming Pools help you discover what can be the best option for your swimming pool surroundings. A few tips to consider:
Pool Lighting:
Pool lighting in and around the pool must be considered before the landscaping to prevent digging it up later while installing accents. The best lighting for your pool depends on the theme of your landscape. If your design features tropical plants, you might accent them with tiki torches. Going for a softer, more romantic look? Try hanging a string of lights across your poolside patio or through the overhanging trees.
Privacy:
Maybe you have nosy neighbors, or maybe you want a few moments' refuge in the pool without the kids noticing. Whatever your reasons, a privacy fence around your swimming pool can help you achieve your goal. Aside from fencing, there are more creative and natural ways to create a private swimming pool environment, as well. Being a leading swimming pools specialist in Dubai UAE, we come up with leisure ideas and solutions that are creative and unique for you to have some quality time by your swimming pools.
Plant Types to Use:
Strategically planting around your pool can make it feel and look like an integral part of your backyard's landscape. You do not want to plant trees & shrubs that shed many leaves that can litter your pool and clog cleaning equipment. To save yourself the trouble of cleaning up after messy trees every time you want to use your pool, look for species that will not shed during the swimming season.
Problematic plants: Plants that are thorny and shed a lot of leaves can we very problematic for your pool area. You would be spending too much time maintaining the area in and around the pool. Plants like cactus and succulents can be used added to the list.
Low maintenance: The landscaping near your pool should enhance its surroundings and often sets a mood, such as an island or oasis. You do not want to be spending the bulk of your free time trimming and fertilizing your poolscaping, especially if it is hard to access. Keep it simple. With the right plant selections, you can relax in your swimming pool and enjoy the scenery.
Size: When buying plants for your pool areas, smaller size plants are better. There are many varieties of plants that you can choose from. We at Desert Leisure & Swimming Pool keep in mind your likes and dislikes always tend to choose the plants that will suit your needs. We always make sure the plants are smaller in sizes when planting as they will have more space to grow in the ground and can take their time to adapt to the new conditions.
Let Desert Group be your go-to when it comes to designing and building your landscape. We have partnered with many villa owners in UAE to help them design and build their landscapes surrounding the swimming pools. With our customers in Dubai, Abu Dhabi, Ras Al Khaimah, Fujairah and Al Ain; Desert Leisure specializes in designing and building landscaping. Our proven process has helped them design and build award-winning outdoor living spaces that maximize their home value. Call us or visit our website for additional information.